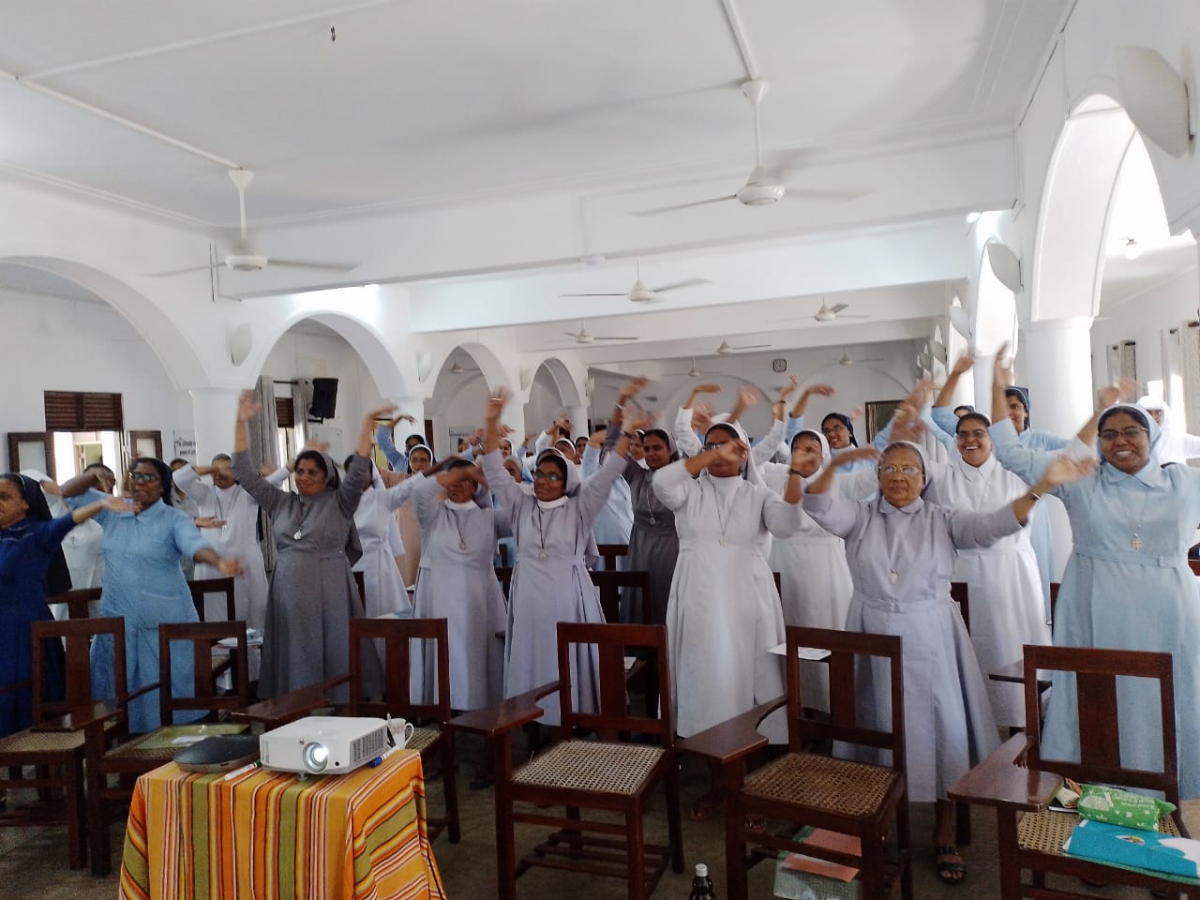 The heart's aim of women religious is to express their charism by demonstrating God's love through acts of service in SRI LANKA. We 9 participants from women religious congregations gathered together, as one body at NayakaKanda, Good Shepherd Convent, Wattala, Colombo, on 27th morning during the month of January 2023.
Together we are convinced that now is the best time to embark on our project  [Child Care for Children Sri Lanka] CCCSL as many children and families are being affected by the current situation in Sri Lanka and that is, unfortunately, continuing to worsen with each passing day.
As of the 31st August 2022, headline inflation was documented at 64.3% and as of the 27th  of  September,  food inflation increased to  94.9%  Against this backdrop, families are being compelled to give up their children to institutional care as they are unable to make ends meet.  A vast number of social problems have arisen with greater intensity including homelessness, suicide, robberies, and underworld criminal activities as a  result of the crisis. Our experience of working together for the past two years has helped the women congregations to motivate each other, to share our expertise and learnings, and to explore the possibility of moving towards family care.  This experience gave CCCSL immense hope in working together toward one
goal and changing the approach in the care sector. We are  really  proud   to  say  that  this  is  the  first  time  women  religious have been  working   together in the childcare  sector.  CCCSL  believes  that  this intensive work  will  touch  and motivate other congregations of women religious  to  possibly  embrace  care reform.   
The church is recognized for providing childcare services in the Island, when it takes initiatives for reintegration; the non-government organizations will support the implementation of childcare reform too. Eight Holy Family Sisters from both Colombo and Jaffna Units participated passionately in the workshop. It was an invitation to carry out the mission of care reform in our own Units.   As the coordinator for this   special task, I remember the word: My prayer is not that you take them out of the world but that you PROTECT them" (St.John17:15)
On the first day Dr. Sohani Fernando, an Independent consultant, and a licensed clinical social worker was with us in sharing her experiences on the impact of institutional care on children. She asked us to remember, and draw on some of our childhood memories. Her input clearly explained the Global Trends in caring for Children. We were inspired to look at it from a different perspective, under the following headings:
Global Trends in caring for Children- Current Conditions
Sri Lanka's Current Position on Institutionalization
The National Alternative care Policy for Children in Sri Lanka
Children in alternative care systems
Children in Contact or Conflict with the Law
We were awakened to reunification and reintegration. This Section focuses on children who have been removed from their families to ensure their safety and is based on the principle that the first goal is to reunite and re-integrate them with their families as soon as possible.
On the second day Sr. Saminthini, RDS, the coordinator of the CCCSL moved us to understand our purpose of this journey. She emphasized the importance of journeying together to transform care for children. She presented a report on the Catholic Care for Children Sri Lanka's project Proposal- 1st Phase. We all studied together. According to census data taken in 2019, there are 10,632 children in 379 Child Care Institutions (CCCSL) across the Island nation. Our Vision is framed as:
 "Women religious are champions in reforming the  Child Care Sector in Sri Lanka creating families and family-like care with loving, healthy, and protective environment."
We are aware of the urgent need to strengthen families with the best parenting skills and other essential spiritual, educational, health, and livelihood support.
On the third day, we presented this proposal to work on it. We observed everyone enthusiastic to implement the said project.
"We are the World, We are the children
We are the ones who make a brighter day, so let's start giving
There's a choice we're making, we're saving our own lives
It's true we'll make a better day just you and me".
Sr.Nirosa Pathmasenan
Jaffna, SRI LANKA