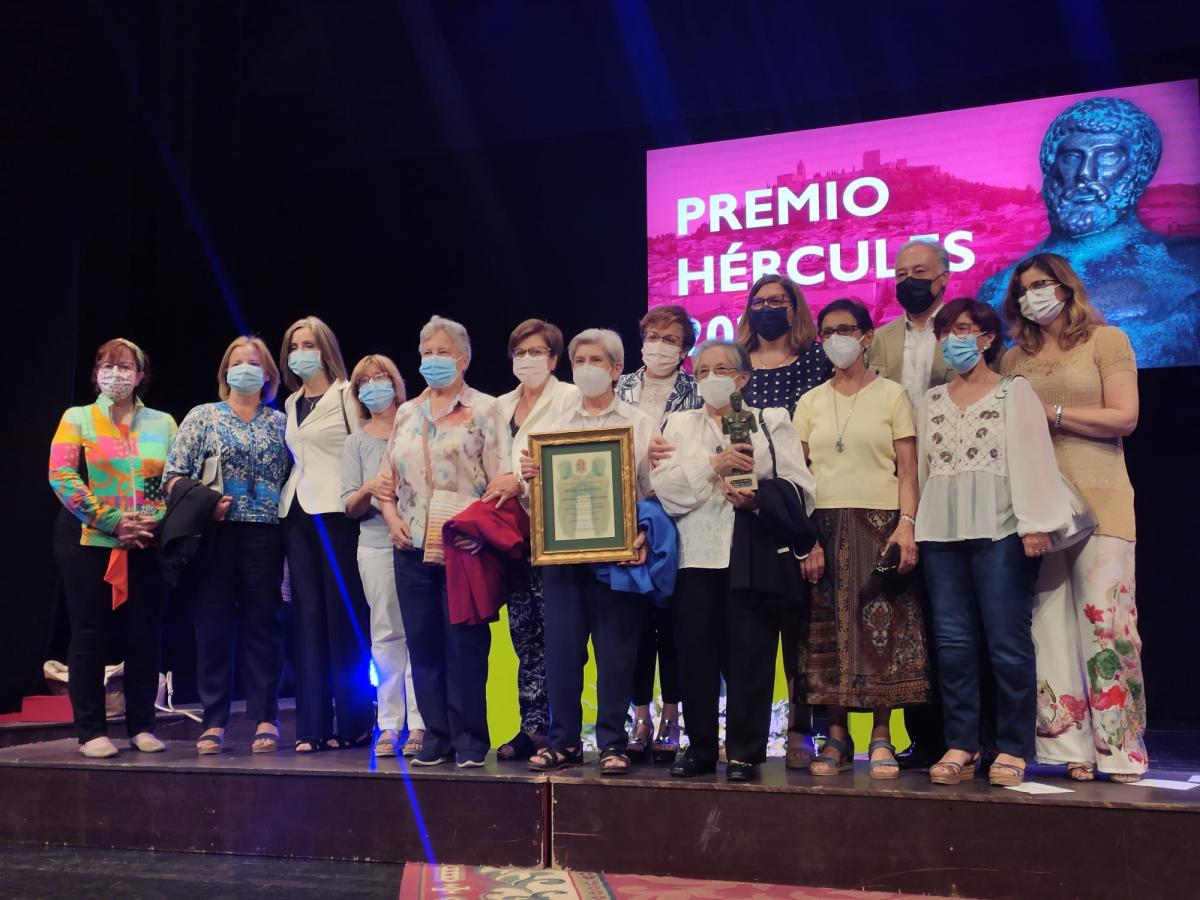 The Holy Family remained in Alcalá la Real for 48 years, from 1972 to 2020. The religious community was closed in November. Today, the presence of the Holy Family continues through the Lay Vocation, with a large group of committed Lay Associates.
On Friday 18 June, they accompanied the community of Campohermoso (Almeria) to receive the Hercules Prize, awarded by the City Council of Alcalá la Real to individuals or groups who have distinguished themselves in different areas in favour of the towns's inhabitants.
The City Council explains why we received this award:
"TO THE SISTERS OF THE HOLY FAMILY OF BORDEAUX. FOR THE WORK OF THEIR CONGREGATION IN ALCALÁ LA REAL AND THE NEIGHBOURING VILLAGES FOR 48 YEARS, THROUGH MULTIPLE AND DIVERSE SOCIAL AND PASTORAL ACTIVITIES. FOR THEIR CONSTANT ATTENTION TO THE NEEDS OF THE POOREST AND THEIR COLLABORATION IN ALL THE PARISHES.
IT IS THANKS TO THEIR WORK THAT THE PROFESSIONAL WORKSHOP IN ALCALÁ CASCO AND THE CONFECTIONERY COOPERATIVE IN LA RABITA WERE CREATED. THEIR COMMITMENT TO EQUALITY HAS LED THEM TO SET UP LITERACY, SEWING AND CRAFT COURSES AS WELL AS OTHER TRAINING COURSES. THEATRE WORKSHOPS FOR YOUNG PEOPLE OR THE ORGANISATION OF TRIPS FOR NEEDY FAMILIES ARE OTHER EXAMPLES OF THE MANY GOOD WORKS OF THE CONGREGATION SINCE 1972 UNTIL TODAY".
The presentation of the award was an intimate celebration, shared with other awardees and beloved people of the town, with whom we have shared so much over the years.
"In devoting yourselves to the Works of the Association, you have not separated yourselves from those who live under the common law. As companions of their Good Angel, you follow them in the valley of tears and, to bring them back or to keep them for Jesus Christ, you share with them, as far as you can, all the fatigue, the trials and the dangers of the journey." P.B.N.
(We share a video of the event and a photo of the Lay Associates with the Campohermoso community).