The opening of the Novitiate, the installation of Dolcita KALEMA as Novice Mistress and the reception of the Pre Novices was taken place on 3 March 2019 in Uganda.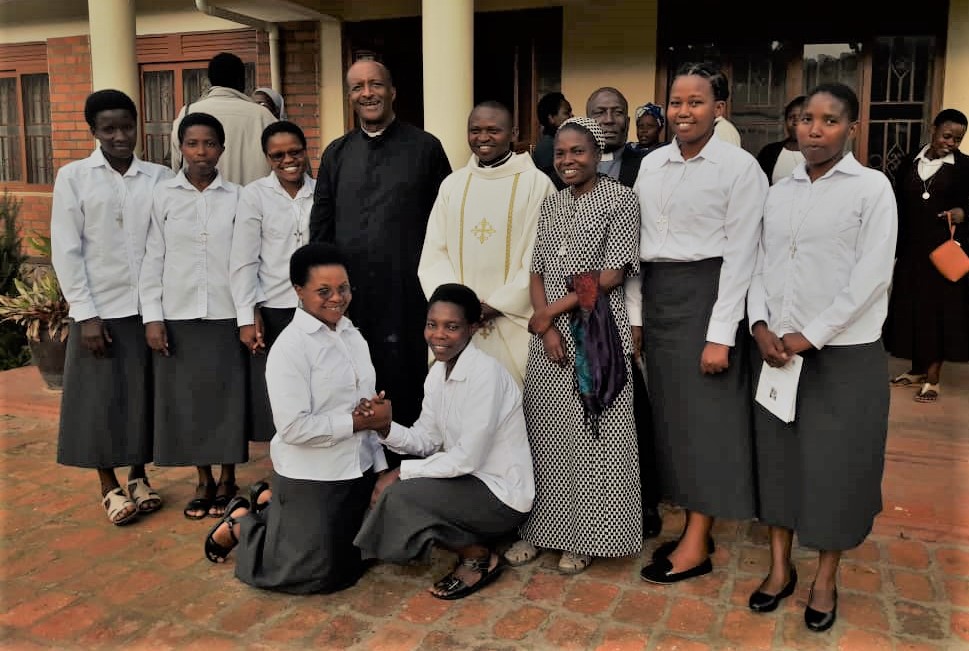 It is with great joy and gratitude that we come to share with you how the celebration of the opening of the Novitiate, the installation of Dolcita KALEMA as Novice Mistress and the reception of the Pre Novices took place yesterday (3 March 2019). We were happy that our four communities were represented with Joaquina from Gikongoro, Weronika from Rushaki and all of us from Buhara and Kitumba itself.  It was indeed very sad that our Rwandan sisters were not able to cross the frontiers due to the barring of all Rwandan nationals from travelling to Uganda. The President of Rwanda says he has reached zero tolerance of his people being harassed, tortured, molested, exploited and imprisoned for no reason in Uganda because of being suspected to be spies.
Mass was celebrated by the chancellor of our diocese who was delegated by the Bishop. Our two priests from the parish were with us. We were joined by our neighbouring religious from different congregations around us. We had Mass in our chapel since we didn't have a big crowd of guests.  The novices themselves took charge of facilitating the liturgy with beautiful singing in different languages with voices that were amazingly harmonized. After the Eucharist, we entertained ourselves with delicious meal prepared by the Sisters and the novices themselves.  Singing, music and dancing followed with a lot of creativity. The priests and the religious who came to celebrate with us shared on how amazed they were at seeing such a beautiful and simple organization of the whole celebration especially the liturgy and the installation of the Novice Mistress. Their words were full of encouragement and assurance of support.
It was a very special day for us in the Unit. The dream of having a Holy Family novitiate in Uganda came to reality.
(The text below is expressed to the General leadership team)
We are grateful for the beautiful message you sent us through Eithne. It brought to us your love, support, encouragement and communion. We found the message so powerful! Thank you for accompanying us thus far. We still remember vividly the reflections we had at the beginning of 2017 when you informed us that the novitiate will be transferred to Uganda. We expressed our different feeling and you were there to listen to us and support us. We thank you for involving us in the discernment.  You prepared us to own this project and assume full responsibility.  We now go forward with courage knowing that challenges are inevitable.
With love and gratitude for prayers and support,
Joaquina, Winie, Vincentia, Julia
The names of the novices are:
Cecilia Matsooana LIFALAKANE, Julia Masake MAEEANE, Christina Maipato MOSOTHOANE, Pascaline MUKAKANANI , Emerance NIYONAMBAZA, Donatha NYIRANDAYAMBAJE,  and Marie Claire UWAMARIYA.