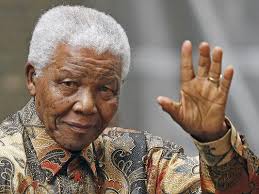 When asked to write an article on Nelson Mandela my first reaction was: "Can I, in one short article, do justice to this world icon whose legacy of freedom and equality will live on for a long time…?"  I don't think so.
I remember so vividly the 11th February, 1990 – the day Mandela was released from prison after 27 years of incarceration.   As it happened, Joy Smith and the GLT were on visitation in South Africa and our two Capetown communities -  Grassy Park and Sea Point  were at a meeting in Sea Point.  As the SABC broadcast the proceedings of this momentous occasion, we sat glued to the TV and with the rest of the country (and the world) we cheered as the moment, which had been anticipated for years, dawned.   Nelson Mandela walked out of Victor Verster Prison gates a free man – hand in hand with his then wife Winnie Madikizela Mandela.  Mandela was greeted with jubilant cheers and victory signs as he smiled and waved at his many country men and women who for years had been denied any access to his words or image.   A new South Africa was born.  Our country would never be the same again!  Only hours after his release he was addressing massed rallies in Cape town, Durban and Soweto ( South Western Townships ) Johannesburg, which thousands of people attended.
Rohlihlalha Mandela was born on 18th July 1918…into the Royal Thembu clan in Mvezo – a small village in Transkei, South Africa.   The name Nelson was given to him by a teacher on his first day at school because his name was difficult to pronounce.  He spent a peaceful boyhood, herding cattle and other rural pursuits, playing the usual games of young boys.   His father who was destined to be a chief, served as a counselor to tribal chiefs.  When Nelson was 9 years old his father died and he was adopted by Chief Dalindyebo, the acting Regent of the Thembu people and was brought up in the Tembu royal court. When Dalindyebo wanted to arrange marriages for them, he and his cousin, ran away from home and settled in Johannesburg.
In the course of his life he was married three times.  His first wife was Evelyn Mase and with her he had 4 children – 2 sons and 2 daughters.  The marriage lasted for 13 years and ended in divorce.  He later married Winnie Madikizela (a political activist in her own right) and they had 2 daughters together.  This marriage also ended in divorce.  On his 80th birthday, he married Graca Machel (widow of the late Mozambican President, Samora Machel).  He remained with her till his death in 2013.
He studied law at the Fort Hare University and later at the University of the Witwatersrand (Johannesburg).  He qualified as a lawyer in 1952 setting up his own practice with Oliver Tambo.  The law firm provided free and low-cost legal counsel to unrepresented blacks.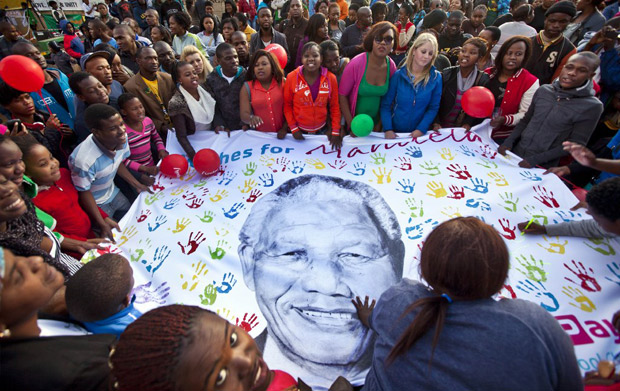 As a young man Mandela became actively involved in the anti-apartheid movement in South Africa.  In 1942 he joined the ANC (African National Congress) a multi-racial national movement which strove to bring about political change in South. For 20 years he conducted non-violent, peaceful acts of defiance against the apartheid government Constantly harassed and hounded by the Apartheid regime, for his campaign against apartheid, Nelson was finally  incarcerated on Robben Island in 1964.  Here he would spend 18 of his 27 years of prison life.   Here too began his transformation which would see him eventually emerge as the leader who would bring his country to democracy and freedom.  From Robben Island he was moved to Pollsmoor Prison in Capetown.  In 1990 he was released from Victor Verster Prison, in Paarl near Capetown.  During his incarceration Mandela came to symbolize the struggle of oppressed people everywhere.  When F.W. de Klerk became President of South Africa, he unbanned the ANC and shortly afterwards released Mandela.  To everyone's amazement Mandela left prison with no bitterness towards his oppressors.  Instead of hatred and revenge he chose the path of forgiveness, championing reconciliation among the races.  He used every opportunity, every circumstance to negotiate reconciliation.  He used the nation's passion for sport, to build the nation, as was witnessed in the 1995 Rugby World Cup hosted in South Africa.  He sought out and befriended his enemies making allies of them.  He set about working to abolish racial prejudice; to achieve human rights and a better future for all; to replace the apartheid regime with a multi-racial democracy.
In 1993, Mandela, together with former President De Klerk, received the Nobel Peace Prize for the crucial role both played in dismantling apartheid and facilitating negotiations between black and white South Africans.  He worked tirelessly to put South Africa back on the world map.
On 27th April 1994 South Africa held its first democratic elections. Not many others could have steered the country from the brink of civil war to democracy as Mandela did. Nelson Mandela voted for the first time in his life.  The ANC won a resounding victory.  Nelson Mandela was inaugurated as South Africa's first black, democratically elected, President on May 10th at the age of 77, with De Klerk as his first deputy.  After one term as President, Mandela handed over the reigns to Thabo Mbeki and retired from active politics.  However, he continued to campaign globally for peace and remained a negotiator and peace-maker in crisis areas in Africa.  He focused his energies on empowering disadvantaged children, making efforts to see that every child had access to an education, (which he believed was the surest tool in effecting change) to  basic health care and a good life.  He busied himself raising money to build schools and clinics in South Africa's rural areas.  He took up the struggle against HIV/AIDS.  This struggle became very personal when his only surviving son died of the disease.
Tata Madiba (as the country fondly called him) died in his home in Johannesburg on 5th December 2013 aged 95.  At his passing we bid Hamba Kahle (go well) to a man who had become the international symbol of peace and tolerance; one of very few statesmen to have achieved almost universal respect; an advocate for peace and equality, both nationally and globally ;  a man who carried with him a moral authority and a gentle but firm sense of justice and fairness……..
Rest in Peace Madiba.  Your legacy lives on.
Every year, on Mandela's birthday – 18th July, -the world celebrates Mandela Day.  This celebration was inspired by Nelson Mandela himself at his 90th birthday celebrations in Hyde Park, London in 2008, when he said "It is time for new hands to lift the burdens.  It is in your hands now".  To honour this day, people everywhere are called to act on the idea that each person has the power to change the world.  The challenge is to devote 67 minutes of one's time (one minute for every year Mandela devoted to public service ),  in solidarity with humanity – giving and serving, forgetting oneself to help others and continuing the legacy of this "Father of the Nation."
SOME FAMOUS MANDELA QUOTES:
"I am fundamentally an optimist. Whether that comes from nature or nurture, I cannot say. Part of being optimistic is keeping one's head pointed toward the sun, one's feet moving forward. There were many dark moments when my faith in humanity was sorely tested, but I would not and could not give myself up to despair. That way lays defeat and death."

"If you talk to a man in a language he understands, that goes to his head. If you talk to him in his language, that goes to his heart."

"Education is the most powerful weapon which you can use to change the world."

"I learned that courage was not the absence of fear, but the triumph over it. The brave man is not he who does not feel afraid, but he who conquers that fear."

"It always seems impossible until it's done."

"For to be free is not merely to cast off one's chains, but to live in a way that respects and enhances the freedom of others."

"Resentment is like drinking poison and then hoping it will kill your enemies."

"Lead from the back — and let others believe they are in front."
"I hate race discrimination most intensely and in all its manifestations. I have fought it all during my life; I fight it now, and will do so until the end of my days."
Sources:  Various
                 Internet
Sent in by Joy Money