Submitted by

superadmin

on Mon, 10/26/2009 - 11:34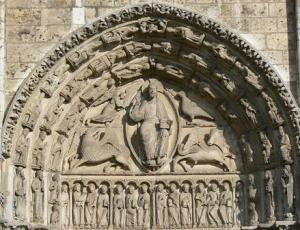 Chartres cathedral- royal portal
All Saints Day is a happy feast, an anticipation of the Communion that is to come; it is a hopeful feast.  .
In celebrating the dear ones who have gone before us, we feel part of their story, of the story of humanity that is interconnected and united to the whole cosmos. 

Father Talec writes: "All Saints' Day invites us to think about our dear departed because they are enthroned in God's mercy.  They are not burdened by failings; they are beyond that.  Just as we pray for them, they intercede for us before the throne of God." 

Let us take the time to remember all those who have recently left us and those who died some time ago but whose death is still very much engraved on our minds…
Let us also take the time to think about that immense crowd of men and women whom we do not know but to whom we are linked and with whom we are in solidarity…

Music
Let us give our personal response to this question that Jesus put to Martha.

« I am the Resurrection and the Life:  those who believe in me even though they die will live and whoever lives and believes in me will never die.  Do you believe this? (John 11,25-26)

Silence
It may be difficult to answer this question.  We do not always have the trust that Martha had when she made her response: "Yes Lord I believe".  Perhaps we feel afraid of death. 
However there are people who can help us to grow in trust.
We think of the witness given by Maiti Girtanner, a member of the Resistance who was arrested by the Gestapo in 1943. A young doctor from the Gestapo tortured her, subjecting her to multiple experiments on the central nervous system in her spinal cord.  She suffered untold agony.  
Later her torturer, who was himself dying, came to see her and said: " I have come to talk to you about death; it a matter of great urgency for me".
In her account of her meeting with the young doctor, Maiti said: "He came to speak to me about death because he was mortally afraid.  I spoke to him in a positive way telling him that God welcomed even the greatest sinners with open arms.  The image that he had of death was that of an iron shutter like that those one sees in a garage.   After about two hours, this man, who was in reality a beautiful person, lowered his head and said with great humility, just like a child: "But what can I do?  So I spoke to him about love.  "Live only for love since you have only a few weeks left to live.  Do all you can to be love for others". 

Maiti composed the following prayer based on psalm 50.
 
« Yes I will arise and I will return to my Father"
One of these days I will meet you.
Your arms will open wide and I will fall at your feet
I will at last be united to the Beloved
Who has sought me and given me so much
And of whom I have spoken so much in spite of my poverty.
To live in a personal relationship with you
Means that eternity has already begun.
Sometimes I no longer have the strength to move forward
Or even to hope
But you have opened up the way for me
You have breached the chasms before me
And turned around those situations which seemed impossible.
And in these ways you have shown your presence.
Your presence is eternal
And we abandon ourselves to you in complete confidence.
You knock at the door of our hearts
And from now on we can say with a boldness that is full of confidence
"Here I am Lord…Be with me to the end".
Prayer of thanksgiving

« One is always bruised by love," sings Aragon… Help us Lord to overlook the hurt and to immerse ourselves totally in love.
We thank you for the miracle of life, for that energy which comes from you and circulates in us, for the words that we can always say with childlike simplicity: "Abba Father"
Thank you for our belonging to the large cosmic family, to the communion of saints who forever proclaim:
« Then I saw a new heaven and a new earth.  The former heaven and the former earth had passed away and the sea was no more.  I also saw the holy city the New Jerusalem, coming down out of Heaven from God, prepared as a bride adorned for her husband.  I heard a loud voice from the throne say: Behold God' dwelling is with the human race.  He will dwell with them and they will be his people and God himself will always be with them.  He will wipe every tear from their eyes and there shall be no more death or mourning, wailing or pain for the old order has passed away.

Apocalypse 21 1-4

Note:  In composing this meditation I used texts from: Prier No. 266 November 2004 and Supplement Christian Life No.442