Heartfelt gratitude for God's blessings
Lord, it is good to give you thanks.
With joy and Gratitude, we remembered on the 14th July 2021, the 25 Years' Journey of the Holy Family Life and Ministry in Matatag Community in Manila and our presence in Barangay Pinyahan. It was a day of remembrance to give thanks to the Lord for His Bountiful blessings and graces that we received from Him for our life and mission.
As our Good Father Says: "MAY EACH COMMUNITY REFLECT THE HOUSE OF NAZERATH". We believe and give witness that these words were lived and being realized in this Community. From the beginning until now, this house resembles and reflects the simple and humble house of Nazareth. All those who entered this house experienced the warmth welcome and hospitality and the spirit of simplicity of the Holy Family. This house became a home and shelter for so many people locally and internationally. The Visitors, our own Holy Family Members and Student Sisters, they all have experienced the family spirit, love, care, and simplicity above all God's presence in the silent and quiet atmosphere. Moreover, our presence in this community radiated through our ministries among the poor, youth and children, who have received our love, care and support. Poor and the marginalized are our first choice. Through our simple presence being united with and among them, we witness to God's love and communion.
On July 14, 2021, we gathered together as Community with few of our Lay Associates to celebrate the 25th Anniversary of the Foundation of the Community. At 10.00 am we gathered around the Table of the Lord to celebrate the Holy Eucharist and we offered our thanks to God's continued presence and guidance that we experienced during the past 25 years of our journey. The Thanksgiving Eucharist was celebrated by our Parish Priest Fr. Adlai S. Barre and concelebrated with Fr. Maxi one of our Priest-friend from Sri Lanka. We were happy that even in this pandemic, we were able to gather to thank God and celebrate the Anniversary, observing the protocols. The Celebration of the Thanksgiving Mass was relayed online for the PBN Family in the Philippines to join in to give thanks to the Lord. It was a joy-filled, simple but meaningful Family Celebration.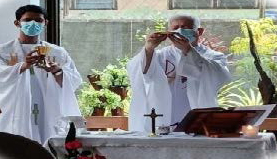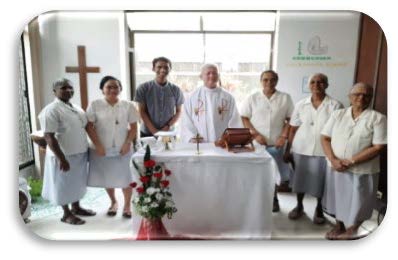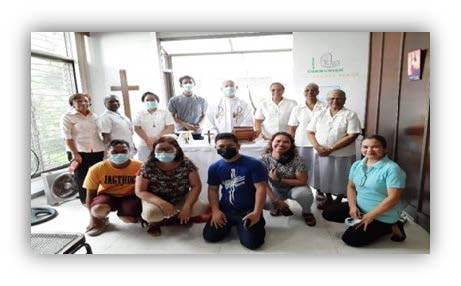 During the Eucharistic celebration, we not only thanked the Lord for the blessings that we received, but recalled the many blessings showered on us through so many people who had been part and parcel of the Life Journey in the past from its Foundation, for their presence and ministries undertaken for the success of our Mission. Particularly, we lift our hearts to God in honour and gratitude for all the sisters who have been part of and served in this Community. Especially we remembered the first Three Sisters:
Sr. Eithne Hughes
Sr. Catherine Coonghe
Sr. Bernadette De Silva
who formed the Community in the year 1996. They put all their energy, love and hard work in common to build this community and turn it into a Home. With gratitude and respect we remember Sr. Catherine Coonghe for her untiring service that she offered to the community and to the people. May God reward her in his kingdom and may she rest in peace. We were happy to have Sr. Bernie De Silva in our midst for this celebration.
With joy we thanked our Parish Community for their love and acceptance of us and for being companions on our journey and in our ministries. They became part of our life journey and who are always there for us to support us in everything. Special thanks to our Lay Associates for their continued presence, support above all being partners in living our mission of Communion. As we continue our life and mission in this Community, we ask God to continue to be our guide and shower His blessing to live our life with zeal and dedication and to witness to our Mission Communion, in following the footstep of the Holy Family of Nazareth.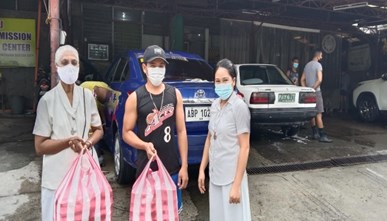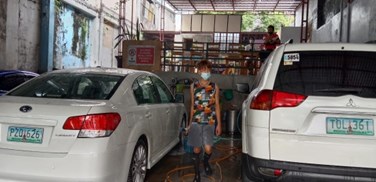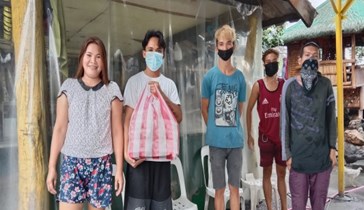 July 15, 2021 continued to be part of our Silver Anniversary Celebration of Matatag Community. We as a Community planned to celebrate the Foundation's Silver Anniversary with a specialty of living our Option for the Poor, particularly in our area and we very much wanted to celebrate this memorable event with them. It was a unanimous decision that we share food with the Youth around us who are unemployed and are jobless at this time of the Pandemic and who are doing odd jobs here and there when there is something for them to do. We selected the group of Youth working temporarily for a couple of hours in "CAR WASH & GARAGE" to be our Anniversary Recipients to share in our joy. We made 50 Packs of choicest Food – of course of Filipino Menu – and were ready to share it with them. July 15th by 10.30 am we were ready and one of our Parishioners with a Tricycle joined us for the distribution of the same. It's our way of journeying with the Youth who are at cross roads without hope and direction, trying to find a way to understand, to be of companions and to make them feel at home with us. It was a surprise for them and it was a welcoming gift, which they received with smiles bubbling in their faces and with a heart of gratitude. We were doubly happy that Pandemic is not always to be viewed in the negative. It has the challenging power to make us think and act differently.
It is our prayer that our Little Community will always remain a Home of Nazareth, radiating the spirit of the Holy Family and create for us opportunities to be with and for the Poor.
"Glory be to God Alone!
Matatag Community, Philippines.