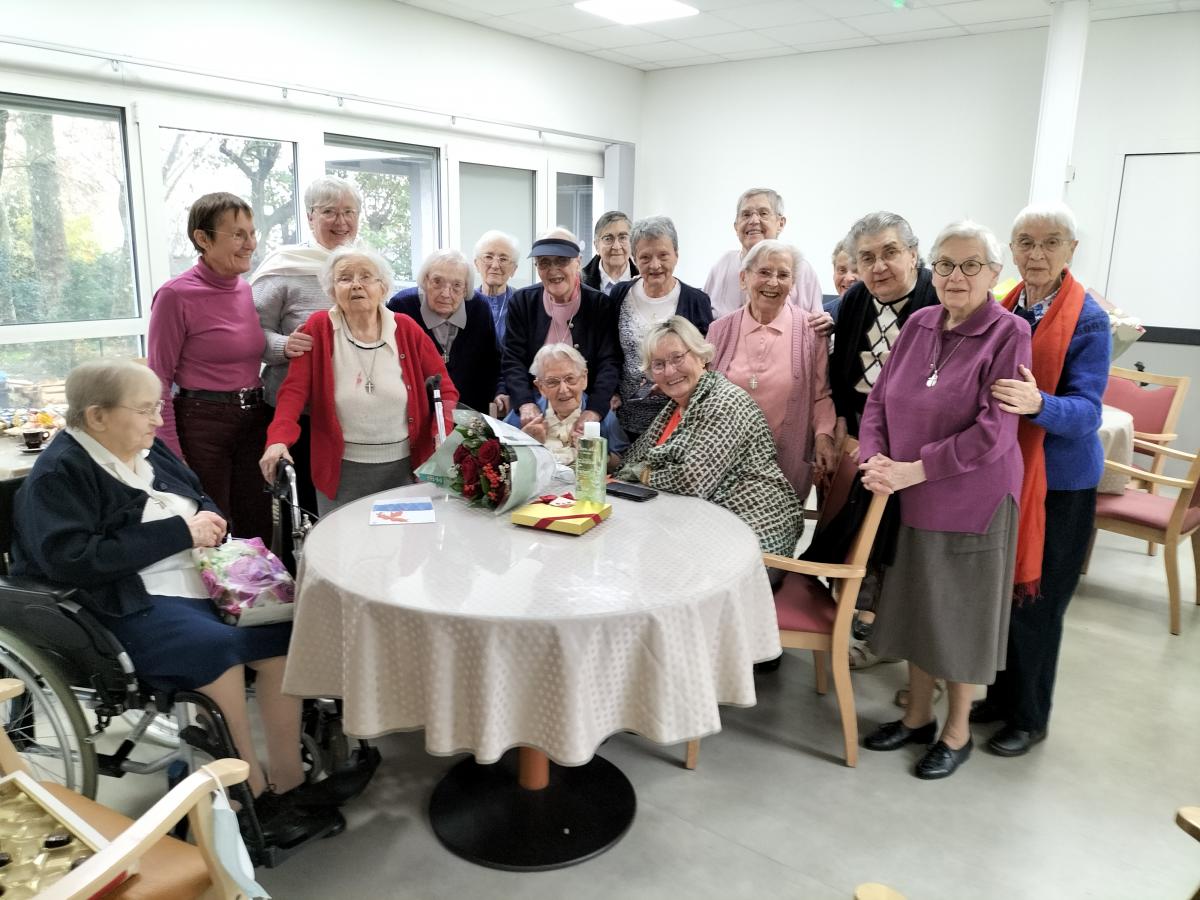 The Sablonat community is celebrating...
celebrating life, and what a life!
Up to the brim!
Thank you Lucienne, because on this day, you gave us reasons to sing to life, to sing to  love.
This love was imprinted on your face as you passed from table to table to say THANK YOU
This love was evident in your joy in welcoming your friends who had travelled across France to be there.
This love revealed its Source and sprang from our Holy Family roots. It had various names: communion, joy, fraternity, recognition... This love flowed from the Presence in you, beyond limits and fragility.
Listen, Lucienne, to the testimonies that follow, and keep within you the shared treasure that invites us to give thanks for the beauty lived throughout your life and beyond, of all life.
You have allowed us to revive one of the beautiful works of the Holy Family: the "Maison Familiale" St Germain Village in Pont-Audemer: an orphanage Founded by the Parish Priest in 1858.
 "Lucienne, you knew me in Angers when I was 4 years old [...] I wanted to be here to thank you for helping me during my youth, which enabled me to become the person I am now.
"My siblings were welcomed on 18 April 1959. Our father was present. He had brought the two small beds (pink and blue) because my sisters were Chantal 2 years and 3 months old, Annick 3 years and 8 months old and I was Jacqueline 5 ½ years old. Normally admission was from the age of 6. Sr Imelda said yes straight away to receive us. The care of the little ones had to be organised. We were the first such case. We left the orphanage in March 1960 to live with our father, but after his death, we returned on 20 October 1960. And our luck was that we were not separated as a family. We were very close.
From the age of 11, I went to the big girls' dormitory with Sister Marie de Salles (Lucienne).
Very quickly, Lucienne took me under her wing. She helped me to grow up. I think (and I am sure) that she liked me; it was mutual. I didn't show it to my classmates but deep down she was the resource person I needed. She was always present and accompanied me in all the stages of my life at the Maison Familiale [...].
In 1971, she accompanied me to Orléans where I was to set up a nursery school. It was at this point that I finally cut the cord with the Maison Familiale. My heart was heavy to leave it...I was going on an adventure...I was losing my bearings, my compass and also my little sisters [...].
After a few years, I went back to school to become a specialised educator. Lucienne certainly gave me all the keys so that in turn I could have the desire to look after children, adolescents and adults living in great social difficulty.
What I have become is thanks to Lucienne. It is this education that we received that enabled us to be well armed to face the difficulties of life without ever weakening.
Lucienne was present at the religious ceremony of my marriage to Claude. She came when we had our two daughters Caroline and Stéphanie.
What a beautiful life path!   -Jacqueline
Thank you again Lucienne for rekindling hope in us as Christmas approaches and for highlighting the beauty of a life. May we capture this beauty in each of our Sisters.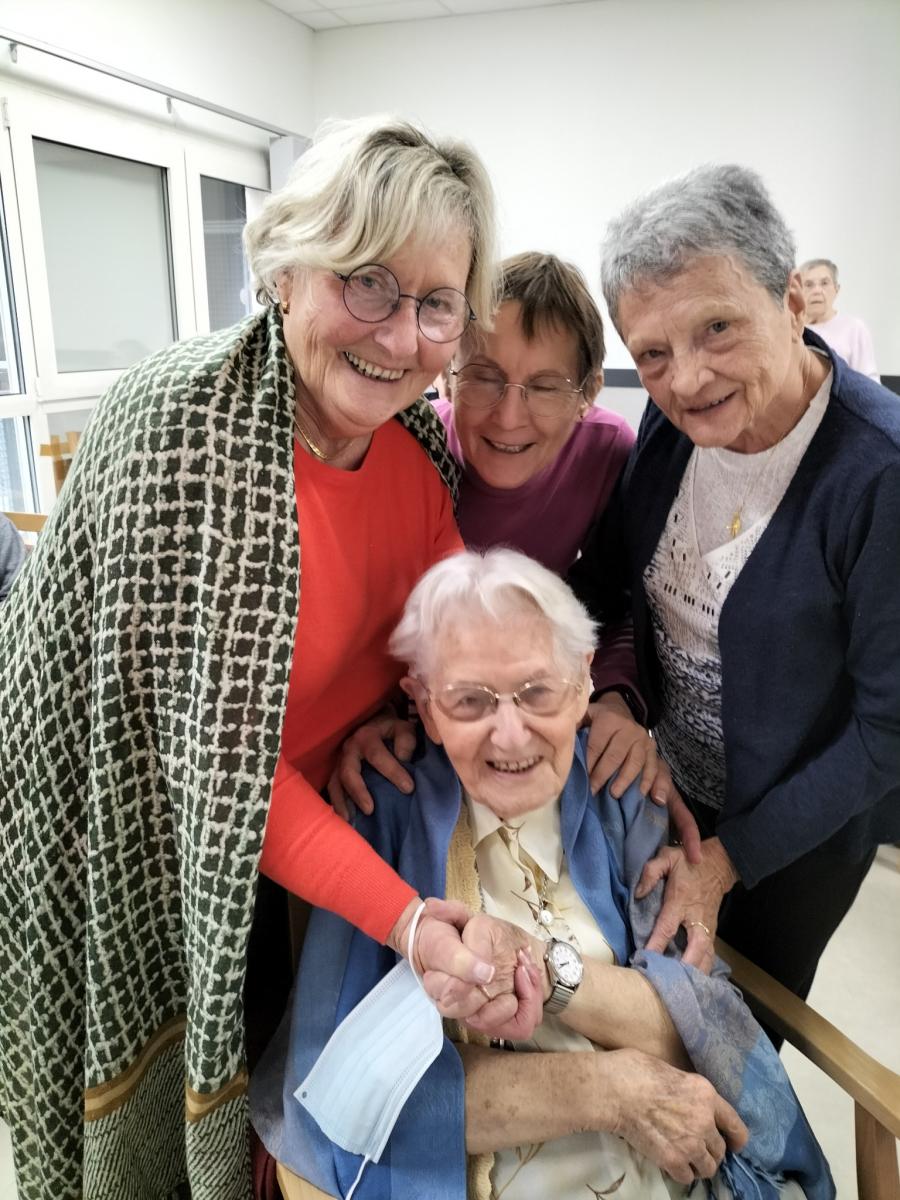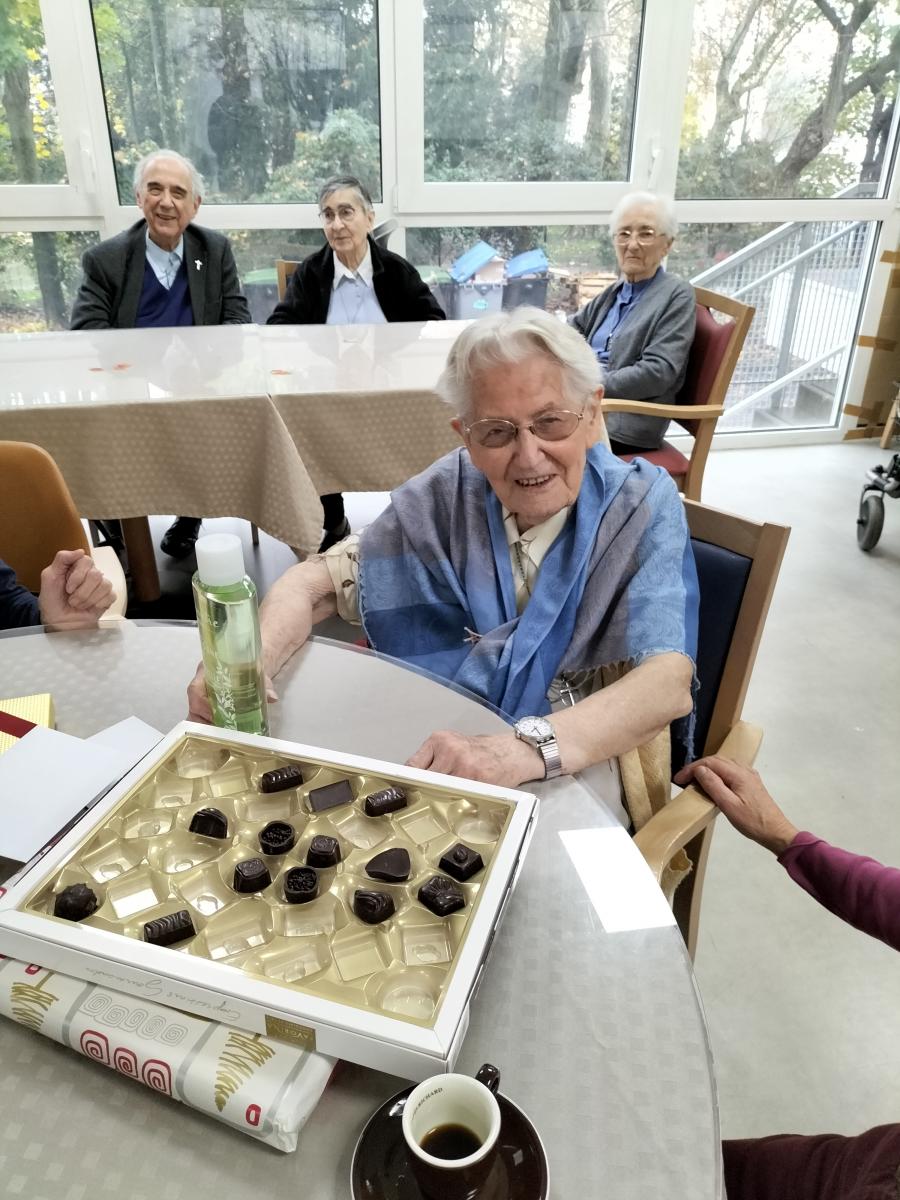 France Belgium Network