Submitted by

admin

on Sat, 10/07/2017 - 18:28
Rock Ferry Members - A Bicentennial Meeting
After one of their monthly meetings, and with thoughts of the bicentenary very much in mind, our Lay Associates suggested that they and the sisters get together as one family and share our past history as Holy Family. This was a time also to give thanks for our past and look forward with hope to the future.
We Remember,
The Holy Family Convent in Rock Ferry is a modern building with facilities for elderly sisters and a beautiful modern chapel It stands on the site of the old convent which housed the novitiate for many years. It was in the community room of this modern building that a group of lay associates joined the resident sisters for a trip down memory lane on a bright Saturday afternoon in July.
To jog all our memories there were photographs: school photographs from the Woodlands spanning 15 years beginning in 1955, black and white photos of processions and first communions, albums of trips made by lay associates to other convents, photos from South Africa, more recent coloured photographs taken in the present convent. I think the plan had been to start with a prayer. However, the photos sparked conversations in an instant and the family chatter started without any official opening.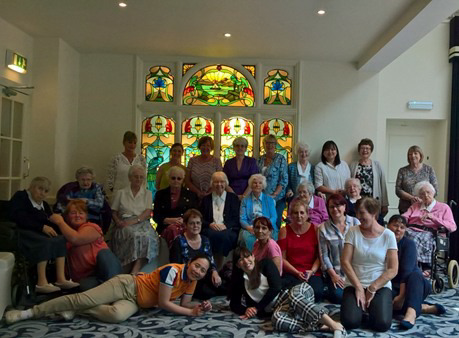 The room was buzzing with conversation as sisters from the past were identified and stories told. There was much laughter and conversations starting with "do you remember when…?' The photographs reminded us of the way the sisters' habit changed over the years and, in conversation, the habit worn by those who travelled overseas. Journeys to Sri Lanka (Ceylon) by boat in the 1950's, to the Philippines. We travelled the world in those few hours.
Finally, it was time for tea; we were dry from all the talking. At this point we did pause for prayer, to thank God for being family together, for the joy and laughter. For us, as lay associates, it was a wonderful reminder of the strength, courage and faithfulness of these women who dedicated themselves to bringing the Good News, and being good news, to people in need. This was an afternoon that everybody thoroughly enjoyed. We will do it again.
Maureen Bowsley, Lay Associate, Rock Ferry