Water is Life !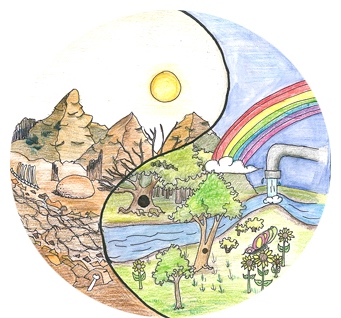 Recently I came across a story -to be told. It said that in February more than 2,000 poor Brazilian farmers walked to the remote jungle town of Anapu for the funeral of a Catholic nun whom they called the "angel of Trans-Amazonia". One of the mourners whom she was helping after a logging accident he endured said he had lost a mother and "I feel like a river without water, a forest without trees".
The police said at the time that a group of Brasilian landowners may have pooled $24,000 to hire the gunmen who carried out the killing. Apparently the "angel" was murdered while walking on a forest path. Two gunmen had fired six bullets into her. The author then gives some reasons as to why the 73-year-old nun from Ohio, a Sister of Notre Dame de Namur, engendered such hatred. The Sister had spent the last 23 years of her life defending poor settlers against powerful logging and ranching interests in the Amazon rainforest. She had struggled to protect the rainforest trees, often wearing a T shirt saying:
"The End of the Forest is the end of our lives".
Rainforests, the author says, are very important for absorbing carbon and reducing the impact of climate change. She then goes on to say that Sr. Dorothy was inspired by the life of Jesus, who showed great love for the poor and vulnerable, and by Catholic Social Teaching which urges is for the poor and for God's creation. Many 'green' Christians regard her as an environmentalist martyr.  The Church's Social Teaching theme of Safeguarding Creation – (and water now being a precious commodity to be used sparingly,) has been picked up by Catholic agencies, dioceses, parishes and schools.
Catholic parishes and schools are joining the Eco-congregation and Eco-schools initiatives.  Our Southern African Catholic Bishops Conference, in its formation of A new Pastoral Plan, has made Care for Creation one of its priorities – which urges us to see ourselves as stewards of God's creation and to safeguard natural resources for future generations. We also need to take heed of Pope Francis' words: l Take good care of creation. People occasionally forgive, but nature never does…… "
Sr Melanie - from  "Weavings" (The publication of the Holy Family of Bordeaux in South Africa)