UNHCR - High Commissioner for Refugees United Nations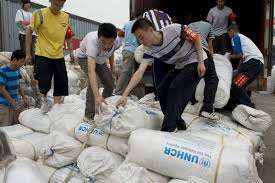 I would like to inform you that we have received your donation. We are truly grateful ; you know how these resources are invaluable for our work at this time, which is so difficult because of the many humanitarian crises and lack of available funds.
I would like to take this opportunity to share with you a story that made ??us very happy : yesterday (April 9 ) for the first time since the summer of 2013 , our colleagues were able to enter the neighborhood  of Boustan Qaser , east of Aleppo ,  which has been under siege for years.
The goods were transported to this community using 54 pull-carts  and 75 workers; 270 trips were made to deposit them in a warehouse of the Syrian Red Cross, and to proceed  as soon as possible to the distribution to these needy people.
The UNHCR staff there have witnessed a disastrous humanitarian situation, with severe shortages of food, water , medicines and basic supplies ... If we can reach places like this, it is also thanks to your support .
Thank you again !
Giovanna Li Perni