Marathon prayer rally against global human trafficking & our solidarity action in the Philippines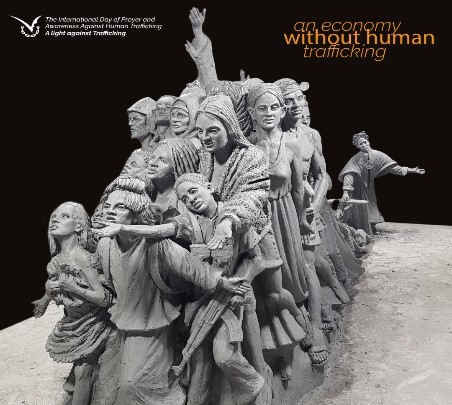 Human Trafficking is a global problem affecting people at all ages. It is subjecting people to forced labor for little or no pay. Human trafficking as defined is a form of slavery involving the illegal transport of individuals by force or deception for the purpose of labour, sexual exploitation or activities in which others benefit financially. Trafficking in persons is a serious crime and a grave violation against humanity. In an effort to deal with the problem, the Philippines passed Republic Act 9208 or the Anti-Trafficking in Persons Act of 2003 is a penal law against human trafficking, sex tourism, sex slavery and child prostitution. This is a significant issue in the Philippines as well as prostitution and Child Abuse. Human trafficking is the second fastest growing crime in the world. It is a heinous crime that shatters lives, families and dreams.
In the Philippines, cybersex is one of the prevailing form of human trafficking which is the live-streaming sexual exploitation of children viewed over the internet. Young boys and girls are being sexually exploited in images or videos online in the so called pornography. Almost 55% of the victims are twelve years old or younger and the youngest is two months old. Snapshots of naked children are retailed to pedophiles for fifty to one hundred dollars. According to End Child Prostitution and Trafficking (ECPAT) an International NGO, there are 100,000 Filipino children are exploited every year.
One possible reason why Philippines is a hotspot for this kind of trafficking is because of the wide access of internet and English is widely-spoken which makes it a lot easier for paedophiles to set up shows. The internet is a major source for predator's hunting, recruitment and trapping of innocent victims. To protect children from sex trade, the Philippines continue to establish policies especially with social media networks, internet service providers and remittance agencies.
Across the world, millions of women and young girls live in the long shadows of human trafficking as it operates in darkness. This is quite alarming, so let us initiate advocacy and media campaigns to promote awareness of the crime. Indeed, human trafficking is a crime that preys on society's most vulnerable people. The cause stems from the adverse circumstances in origin countries and the main cause is massive Poverty, Unemployment and lack of basic Needs. Thus, wherever there is poverty, women and young girls' lives are at risk for exploitation.
It is unimaginable how some parents sell their children even online through cybersex, how husbands allow their wives to engage in this trade.  Parents who should be their protector become their offender. Poverty deprives the poor from good education and people lack education and knowledge on their rights which lead them to the hands of the traffickers who take advantage of their ignorance and vulnerability.
February 8, 2021 was the International Day of prayer and awareness against Human Trafficking. It was also the feast day of St. Josephine Bakhita, who herself was the victim of slavery and abuse and who is now declared as Patron for Human Trafficking.
We, the Holy Family of Bordeaux in the Philippines is blessed with the direct involvement in Trafficking Ministry as Sr. Vivian Fernando is the National Coordinator for this new ministry called TALITHA KUM – a mission entrusted by the AMRSP – The Association of Major Religious Superiors in the Philippines. The Talitha Kum Team in the Philippines is kept very active under the leadership of Sr. Vivian Fernando and Sr. Subhashini Raj as Project Fund Coordinator for the Funds generously shared by our PBN Foundation for this year 2021. Several Activities relating to Awareness Programs are undertaken frequently and regularly reaching out to all sectors of the society here in the Philippines. The Talitha Kum Team conducted Prayer Rallies, Protest Marches,  Poster distributions, Seminars to Parents in general, Students in all Secondary and College levels, and special programs to Women, Religious Groups in the past. Now due to Pandemic the work is on-going with On-line seminars, Webinars, virtual seminars at village levels. A great sense of awareness has been created as the situation of Trafficking in the Philippines in its numerous and various forms is very much present and is actively operational even during this Pandemic.
February 8th 2021, on the International Day of Prayer and Awareness against Human Trafficking, a program named GLOBAL MARATHON PRAYER was prepared by "Talitha Kum" International to highlight the Theme for this year 2021 that focused on 'An Economy without Human Trafficking' in line with Pope Francis' call for a total sustainability plan beginning 2021-2030.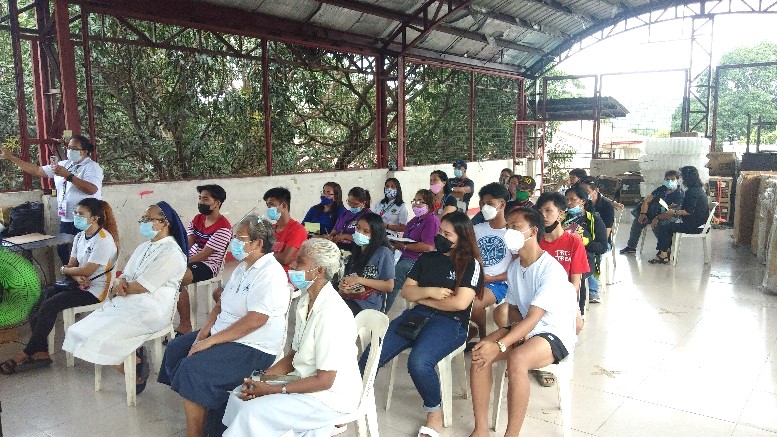 We the Holy Family Communities in Bulan and Rizal took the opportunity to make it available to the Lay Associates and Lay Leaders, Mothers' Groups and Youth Groups to participate the well planned program. We also created room and space for chats in dyads and groups. Groups activities based on the Video Presentation. They were able to see for themselves the mothers horrifying reality of human trafficking and all other issues related to it, not only in the Philippines but also in other countries as well.
In RIZAL SORSOGON we had this program on February 8th with our Kapiliya Cluster 1 Youth Group – youth comprising of 07 Barangays. More than 60 Youth participated in it. Sr .Merita Fernando welcomed the Youth and she introduced the program and what Human Trafficking is concerned about. The Youth performed a dance with the theme song "Heal our land' before the Program to give an energetic start after which they watched almost all the sequences of the global Video Presentation.
They were taken by surprise to know and to view that Trafficking is really an International serious situation that calls for urgent and immediate Action against it. The time was given for Personal and Group reflection, sharing, expression of one's own concerns and to identify the same problems and situations prevailing in their own homes, villages, schools and in the society. The time for Group Activity provided the Youth to identify familiar the situations and they there was free sharing of the real situation they themselves are familiar and concerned with. After a fruitful time spent in prayer, reflection, discussions and sharing, the Youth came forward to pledge themselves against Trafficking. The lighted candle in their hands as a symbol of radiating Christ to the Trafficking world and as solidarity with the victims of this modern slavery, they vowed to fight against this crime against humanity and especially the children and youth who fall victims to this heinous crime. We wish to follow this up with other similar seminar, video presentations and workshops and to extend it to the other sectors at the Barangay level.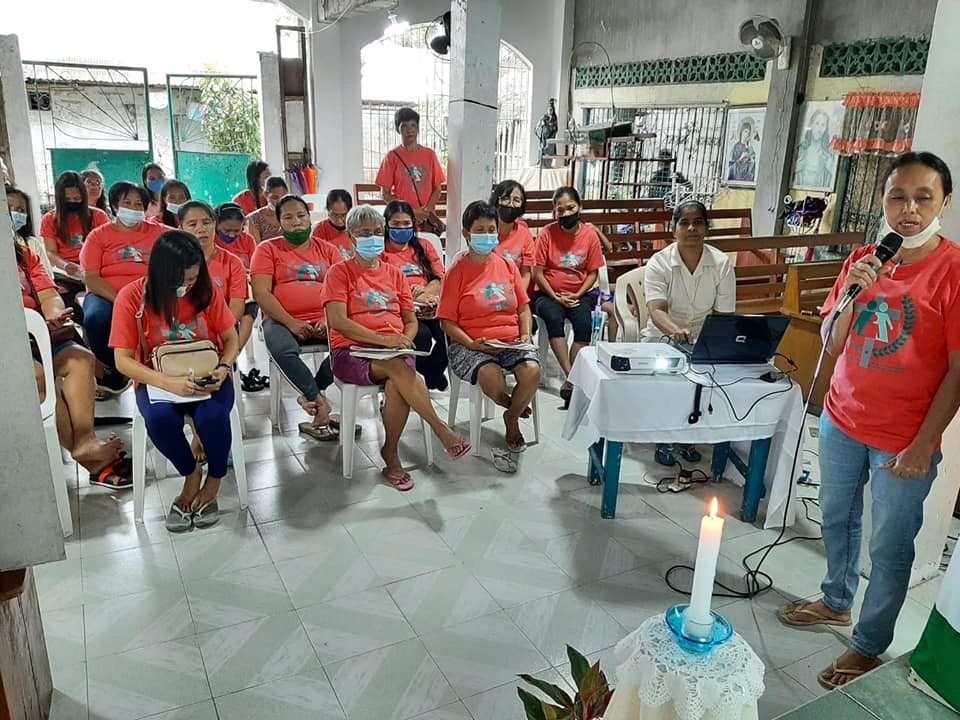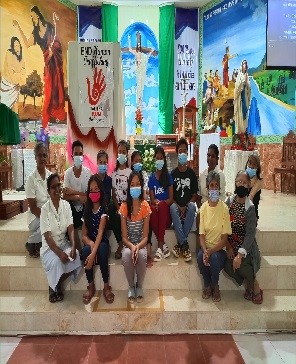 In BULAN SORSOGON we gathered the Mothers and the Youth, the Lay Leaders and the Lay Associates to participate on the International Day of prayer and awareness against human trafficking. It was a fruitful participation where all the participants were actively involved in dialogue, group activity, creative presentations, freedom of expression and opinion to feel free to share their own and environmental situation related to areas of Abuse and the category of the victims fallen as prey to this crime.
After hearing and seeing the actual situations in the video presentation, and after a fruitful interaction among the groups, they were asked to write on a piece of paper given as to how each one would commit to eradicate this situation and protect the children, women and even the men. It was a very moving moment each participant remembering those affected, lighted the candles, and read how they are going to commit to safeguard the victims and how they would react to the situation. Some of their resolutions were:
to be an attentive parent
to pray for the victims
through prayer, not only to reflect on the experiences of those who have suffered through this at the level of human dignity, but also to find ways to heal, to comfort, to strengthen, to help and to empower the survivors.
to pray for the people who are working and fighting to end this issue
to be vigilant and report those who can do something
to work and to join groups that fight for human rights and many more….
It's very alarming and heart-breaking to become aware of the situation in the Philippines. What can we do as women leaders, mothers and as Lay Associates to contribute our share of support to curb this sinful situation in this society. How can we help to end human trafficking and this modern day slavery? what commitment can we do to help to end this issue even in our own places? These were some of the questions hard but realistic questions raised to us during the symposium.
The topic about human trafficking has helped them to awaken their awareness that human trafficking can happen, anytime, anywhere even at home, especially now that social media is open to all because of the education which is being imparted online. It is challenging to be vigilant and be attentive to the children using social media. One of the ways that we see on how we can help the present human trafficking is empowerment through educating the Parents as well as the children about human rights and what is human trafficking. We need to continue to prioritize educating the people around us to keep them aware of the danger it may bring to everyone.
Ida Joseph
Philippines