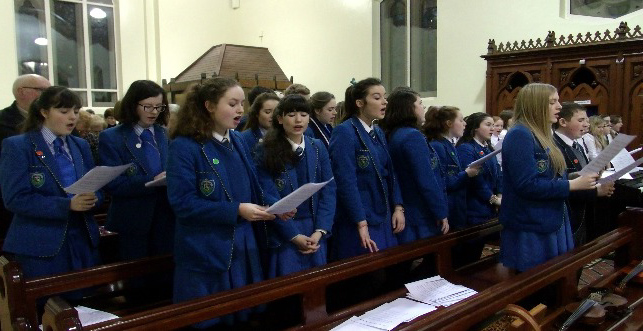 There was a large gathering of parishioners and invited guests at the Mass of Thanksgiving on 11 February 2015 to mark the 125 years or Holy Family presence in the parish of Magherafelt. Holy Family Sisters from Britain and Ireland were among those invited and these included four members of the Leadership Team, all of whom are past pupils of St. Mary's Grammar School, Magherafelt.
In the week before the Mass the story of the Holy Family Association had been displayed in poster form around the inside of the Church of the Assumption where the Liturgy was to take place, thus giving everyone an opportunity to study and appreciate the spirit and aim of the Association and something of its origins.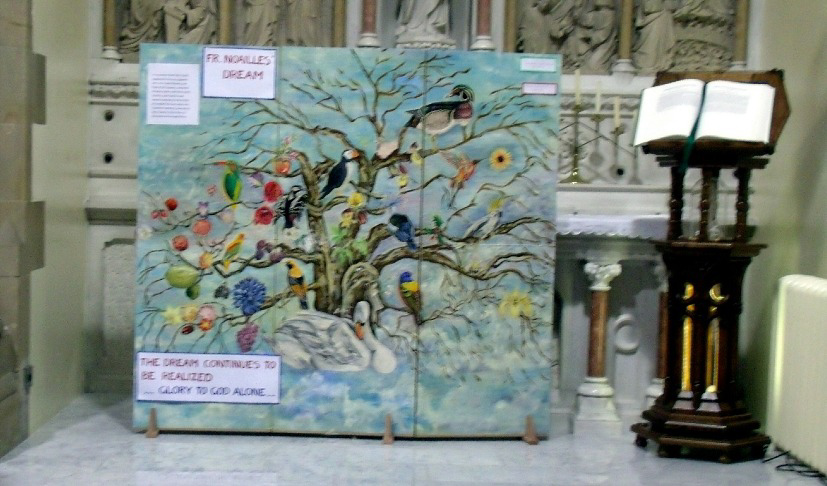 The names of all the Sisters and Lay Associates who had made their contribution within the parish since 1889 were listed and all were remembered with gratitude in the prayers of the faithful.
Fr. Gates the chief celebrant at the Mass spoke about the history of the Holy Family's insertion in the parish and outlined with gratitude the valuable contribution which the Sisters had made and continue to make, not only in the field of education but also in so many other ways, to the present day.
Mr. S. Mc. Curdy, Chief Executive of the North Eastern Education and Library Board (NEELB) also addressed the congregation .His words were encouraging and full of praise for the work that had been done in the field or Education by the Sisters. He spoke of his happiness to be present on this very special occasion, which he saw as a privilege and an opportunity to express the sincere gratitude of the Board for all that had been, and for the way in which the Sisters had touched and formed the lives of so many young people all over the years.
Sr. Gemma Corbett, current Province Leader, and past pupil of St Mary's Grammar School, spoke with nostalgia of the impact the Sisters had had on her formative years. "In this the year of consecrated life it is truly fitting that we should celebrate," she said. Quoting from the writings of Pope Francis, she went on to outline the place of Religious in the Church and in the world of the 21st century.
The Liturgy was greatly enhanced by the singing of the choirs of Holy Family Primary School and St. Mary's Co-Ed. Grammar School. The instrumental music added richness and variety to the occasion and was greatly appreciated by the congregation.