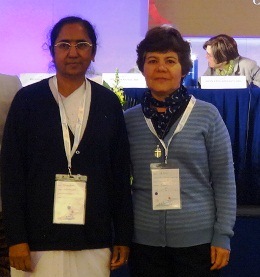 This was a unique moment in the history of the Church and in religious life when 1310 female, male formators from 106 countries and 416 religious congregations came together in Rome from 7 – 11 April 2015.  The presence of religious from countries where living one's consecration is a challenge and a risk was very significant.
This Congress was organized to mark the Year of Consecrated Life, with the aim of "reflecting upon the fundamental aspects of consecrated life in the Church and the world in a multi-cultural context and the demands on formation that this contemporary context entails."
The whole programme was focused on formation as a process of forming young people to "have the same heart and mind of Christ" (Phil. 2, 5) – 'journeying along the streets of the world with the Heart of the Son'.  Consequently, the theme of each day was developed with a Scriptural basis, relating it to the formation environment that is called for, in the world of today.  Thus the reflections and dialogue of each day unfolded formation as an ongoing process, as a life-long journey.  Jesus' way of going about with his disciples was emphasized as the model par excellence, where he turned his whole life into a school, his entire existence forming the disciple. 
Each day began and ended with a prayer prepared by different Continents - Asia, Europe, Africa and America.  The cultural diversity and creativity added colour and richness to the celebration.  All this came to a climax with the Eucharistic celebration at St. Peter's Basilica, on the last day, followed by a special audience with Pope Francis.
Holy Family too was privileged to participate at this Congress in the persons of Geni Dos Santos and Kumudinie Dassanayake.