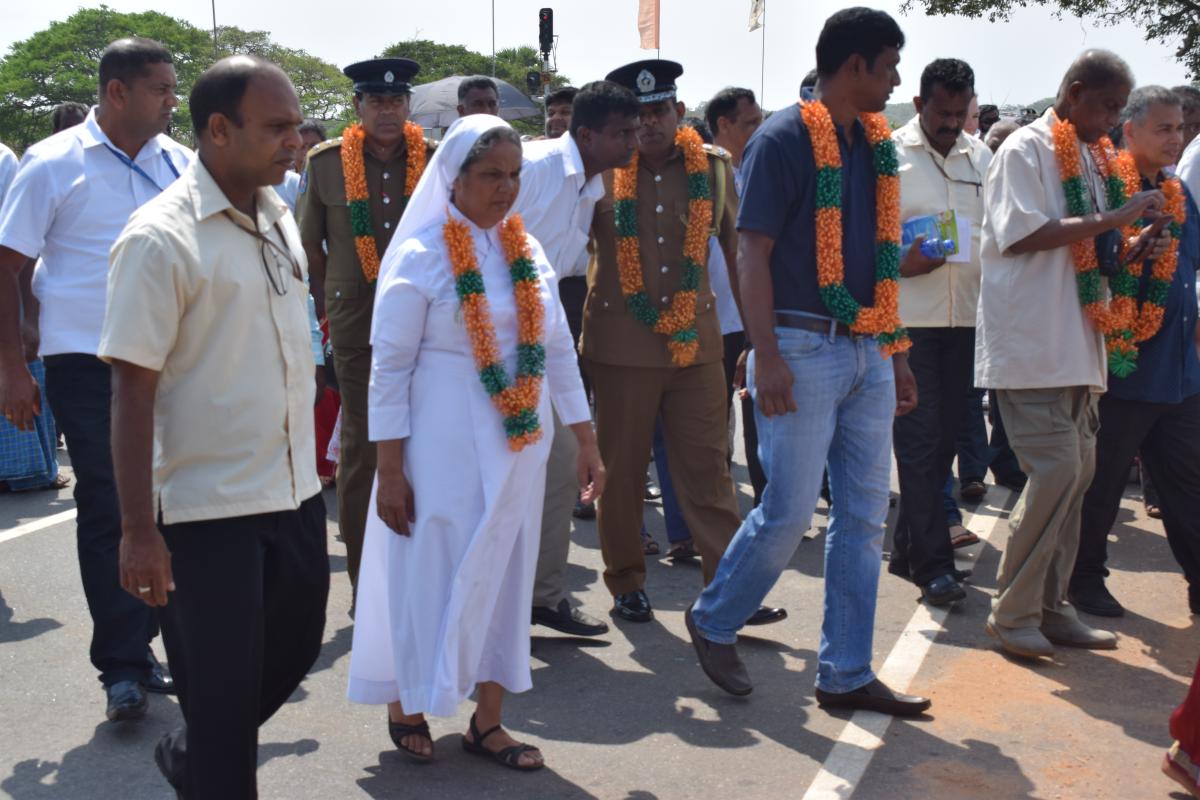 In 1998 June, then was my Provincial, Sr.SophieBastiampillai, asked me to go to Kilinochchi to work with the people with disability, helping Sr. Lourdes Joseph. I was so happy and I joined the work. In 2001 September I was sent to University College London to get the Diploma in Community Disability Studies. Provincial and the Sister from Provincial House London and St. Gabriel's Convent were so helpful in many ways. When I came back in2002 October Late Sr. Ancilla our Provincial asked me to start the work in Mannr. Even though I did not have the courage, trusting in God's Providence, with the support of the Councilors and the community, with the permission of Rte.    Rev. Dr. Rayappu Joseph, we began our service in 2003.
To love and serve and see the suffering God in people with disability I continued this ministry with enthusiasm.  Our aim is to enhance these vulnerable children and adults in social, cultural and economic state of life. We provide different kind of Medical and Aesthetic therapies for them. In 2012 when the Donkey Assisted Therapy was introduced I was amazed.  Why amazement?  The Holy Family was travelling by Donkey. Jesus' Triumphant Entry into Jerusalem won the donkey with the signing of "Hosanna!" by children and others (Mk.11: 2-10).So, going back to the source or root is wonderful. When the donkey is taken care, tamed and groomed any children can become friendly, building good and positive relationship, learn empathy, compassion and experience how to care for the feelings and welfare of other living creatures. Studying and reflecting the 'Emerging World View' it leads me to a sense of wonder and 'Greening in spirituality'
In 2012 Officers and veterinary surgeons from Donkey Sanctuary India and supported by their parent agency in the UK, visited Mannar on three occasions to undertake an assessment of hundred of donkeys in order to develop a future management and welfare plan for the donkey population. At the same time preparationof  people and children  were given  awareness, and knowledge about the donkeys, Donkey Assisted Therapy Centre was planned. When I went to UK in 2014 I had the chance to go the Donkey Sanctuary and Therapy Centre in Devonand get some knowledge and training on this subject.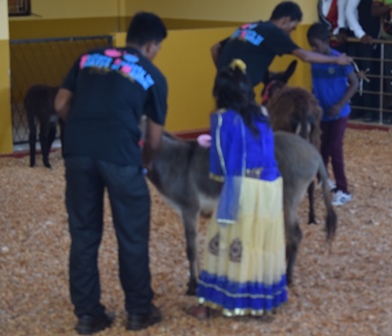 The opening of Donkey Assisted Therapy Centre &Programme took place on 27th.April 2017. It was inaugurated by the Minister of Sustainability Development and Wildlife- Hon.Mr.Gamini Jeyawardabna Perera.
The Theme of wildlife is an ancient concept in Sri Lanka. Conservation of natural environment and the welfare of animals considered noble in keeping with the teaching of every Religion. Successive Kings gave protection and security to animals in the forest, fish in the great tanks and thy also commanded their subjects not to catch the birds and instead provide security for them. Some years back the donkeys were abandoned, considered as unclean animals, they were tortured and ill-treated, and they too were caused accidents for the people. Now it has come as interdependency because it is realized that they are needed for people, and they need us to and to take of them. It is the same for all the creation, the Scripture says "The entire creation is groaning……" (Rom 8:22-23).
The strategy outlined five programme objectives as follows:
To change the attitudes of Mannar/ Sri Lanka  society to donkeys and disability by demonstrating the benefits of donkey-assisted therapy as part of an effective disability including elderly and sick people  rehabilitation programme

To provide opportunities for children and others to benefit physically and emotionally, and to develop and strengthen their life skills, through interacting and developing relationships with donkeys

To collect evidence of the benefit of donkey-assisted therapy

To bring enjoyment and pleasure into the lives of children and to give them the satisfaction that comes with developing a positive donkey-human relationship

Re – integrate donkeys into the social fabric of Mannar Society.
One of the objectives of "Donkey Management & Welfare Projects is Donkey Assisted Therapy Centre & Programme"consists the discovering new and beneficial ways that human population can use donkeys. They are;
1. Donkey Research
2. Donkey Assisted Therapy Centre & Programme
3.  Donkey for eco-tourism
4. Donkeys and integrated livelihood for people.
Psychosocial skill development, speech and communication: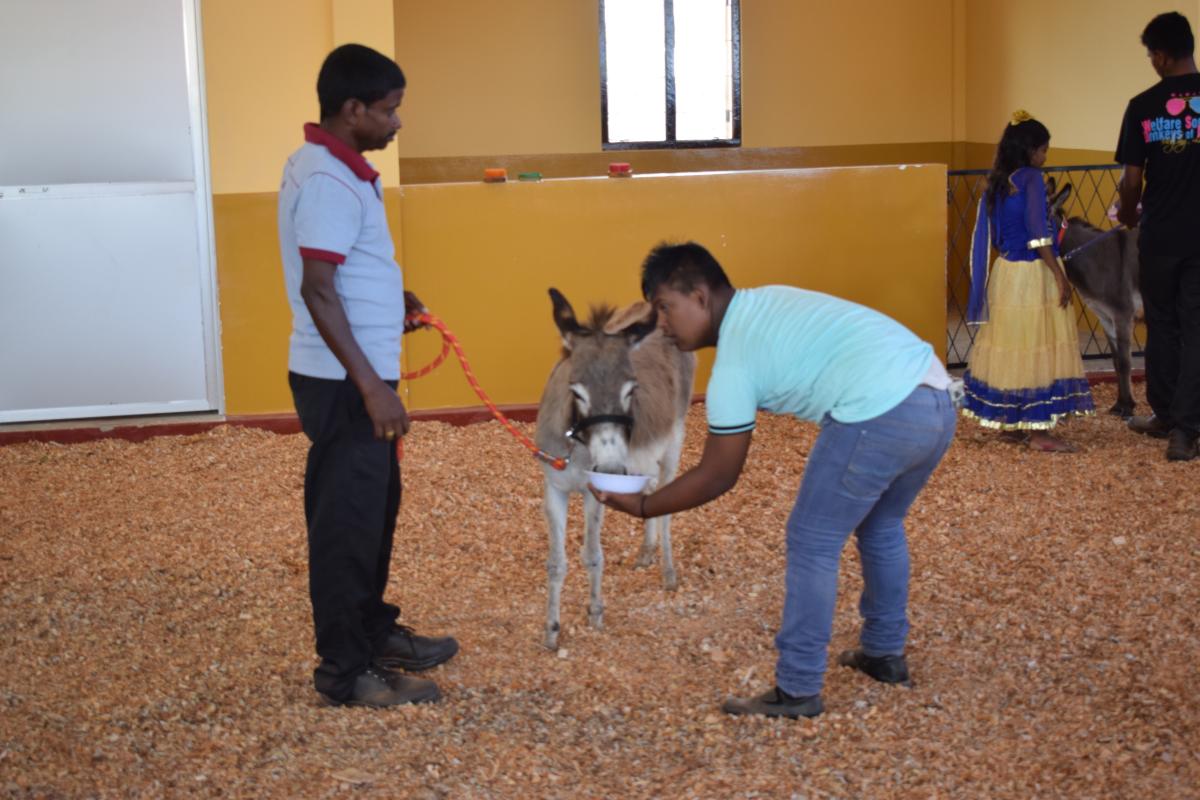 MARDAP was chosen for Donkey Assisted Therapy (DAT) Centre & Programme. DAT brings together two lesser affirmed groups – MARDAP.s children with special needs and donkeys. Bonding with donkeys through riding, grooming, and befriending them encourages affective engagement and stimulate the child's development – improving balance, muscles, core stability, fine motor skills, hand and eye contact/ coordination, body posture, speech, language, colour –number-shape- symbol recognition, thusboosting self-esteem and confidence in children.
It is a pilot project to start the Donkey Assisted Therapy (DAT). It is a fairly new project in our country of Sri Lanka hoping to bean effective to complement and enhance the existing rehabilitation programmes of MARDAP. It will explore an opportunity to represent donkeys in a new light. On return to their home communities, children involved in the programme will be encouraged to build on the interactions and relationships developed with the donkeys by becoming advocates for donkeys.
A green and wildlife inheritance for future generations is safeguarded by enhancing biodiversity and managing the animal population within the acceptable resource limit, minimizing any detrimental effects on the environment. Protection of the nature and the environment is a demonstration of one's inner – development and a society's self –actualization.The Minister of Sustainability Development and Wildlife expressed in his speech that we and the animals co-exist on the earth. Further he expressed "I am happy that, MARDAP collaboration with Bridging Lanka, Donkey Sanctuary - India and its' Parent agency of UK has come forward to start this programme First time in the continent of Asia"
Sr. JosephineMary
Mannar – Sri Lanka.