The present situation: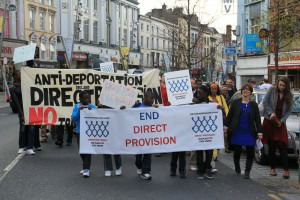 Asylum seekers in Ireland are accommodated by the State in residential institutions under a system known as Direct Provision. Direct Provision is intended to provide for the welfare of asylum seekers and their families as they await decisions on their asylum application. It 'directly provides' essential services, medical care, accommodation and board with three meals a day.
The Direct Provision system is overseen by the Reception and Integration Agency (RIA), a body of the Department of Justice. However, the majority of the 35 centres around the country are privately owned and operated, and the standards of accommodation and living conditions vary widely. When the Direct Provision system was established in 2000, it was described as an 'interim' solution to the high numbers of asylum seekers entering the State in search of protection. But due to an unwieldy system, the majority of asylum seekers spend over 4 years in Direct Provision waiting for their application to be processed and many wait even as long as 10 years.
During this time, they live in a state of enforced idleness; they cannot work, (but this is set to change), and in most centres, they cannot cook for themselves but are forced to eat in a canteen which only operates at certain times of the day. Hundreds of children have been born into Direct Provision and do not know any other life but institutionalised living. In some cases, the lives of residents are governed by unnecessarily restrictive rules which can feel to residents like living in an 'open prison'. Lack of privacy is a significant issue. Single residents share a room with several other adults, and in many centres, parents live in one room with their children. Facilities such as bathrooms are often shared.
The right to work:
Ireland is one of only two EU member states to ban asylum seekers from working, the other country being Lithuania. (As a general rule, the UK, soon to leave the EU, does not allow asylum seekers to work. But they can apply for permission to fill a shortage vacancy if they have been waiting for over 12 months for an initial decision on their asylum claim.) In Malta and Bulgaria, asylum seekers may work a year after their application has been lodged; in Poland, the Netherlands, Italy and Belgium this wait is six months. In Austria, they must wait three months and in Sweden people can work the day after their application is lodged.
In May this year, the Irish Supreme Court ruled unanimously in a case taken by a Burmese man, who had spent eight years in direct provision, that the laws preventing him working in Ireland before his status was decided were unconstitutional. The government now has until November to come up with a response to implement the Court ruling.