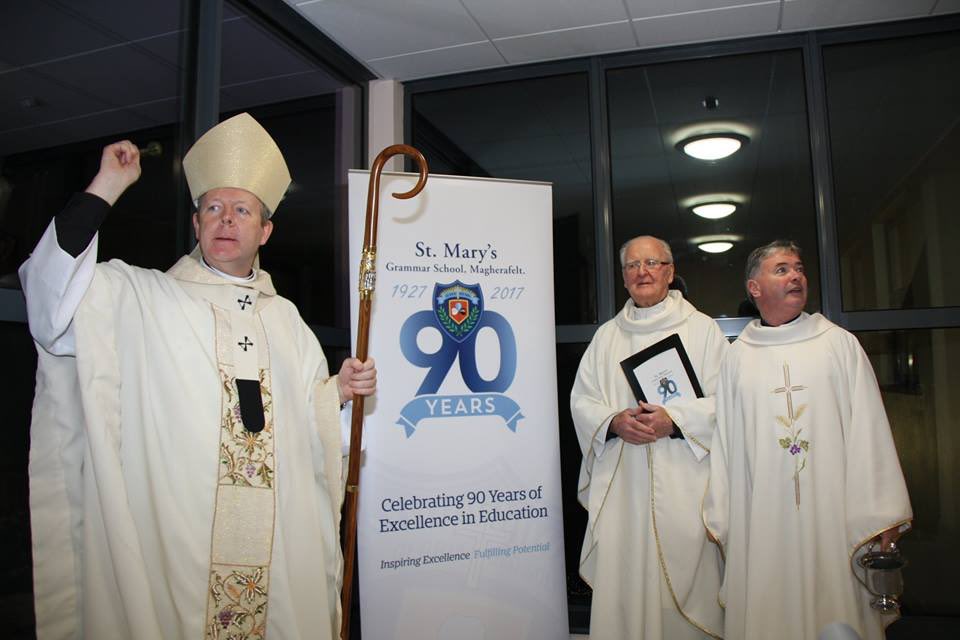 On Friday 8th December 2017, St Mary's Grammar School, Magherafelt celebrated the 90th Anniversary of its foundation. Mass of Thanksgiving was presided over by Archbishop Eamon Martin, Primate of All Ireland, assisted by Monsignor O'Byrne, Fr Gates and Fr Brannigan of Magherafelt and priests from local parishes, including Fr Fox, Fr Forsythe and Fr Doherty.
Past pupils who are now Holy Family Sisters were invited to attend. Srs. Gemma Corbett (Unit Leader), Carmel Bateson and Kathleen Diamond came from London. Srs. Margaret Bradley, Caitriona Gore and Rose Devlin (Magherafelt community) were present. Apologies were sent by other sisters who, due to previous commitments, were unable to be there. Also, arctic weather conditions prevented Sr. Anne Kearney and others from attending.
Past and present members of staff and some current pupils also attended as well as governors, past and present. The School choir sang during the Mass. Ms Gillespie, Principal, paid tribute to the outstanding contribution the Holy Family Sisters had made to the school from its earliest days.
Sr Gemma, presented a framed canvas of our Founder, Pierre Bienvenu Noailles, and, in her address, spoke of his vision in establishing the Association of the Holy Family in troubled times in France in 1820. She expressed her hope to return to Magherafelt in two years to celebrate the bicentenary of our foundation. Ms Gillespie thanked Sr Gemma and informed all present that, in anticipation of the centenary of the school in 2027, all charitable funds, raised in St Mary's over the next ten years, would go to the Holy Family Missions.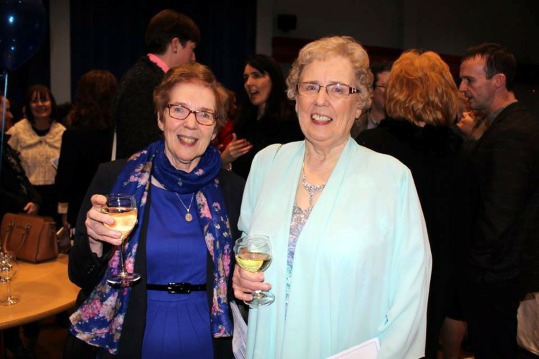 We look forward to maintaining our connection with the school, still referred to locally as the Convent, and keeping alive our valued history. Following the Mass, Archbishop Martin blessed two new buildings, one which provides for the RE and Geography Departments and a large 6th Form Study Centre, named after Monsignor O'Byrne, long associated with the school, and a Music Building, named after Mrs Úna O'Kane, a past pupil who succeeded Sr Marie Therése Harte and Sr Immaculata O'Connor as Principal.
All present enjoyed a drinks reception in the Assembly Hall, where early photographs of the school were on display, and later a warm buffet meal in Café Bordeaux. The night was like a cold Christmas evening, with freezing snow and ice but, thankfully, all enjoyed the historic evening, and reached their homes safely.
Soli Dei Gloria
Sr. Carmel Bateson