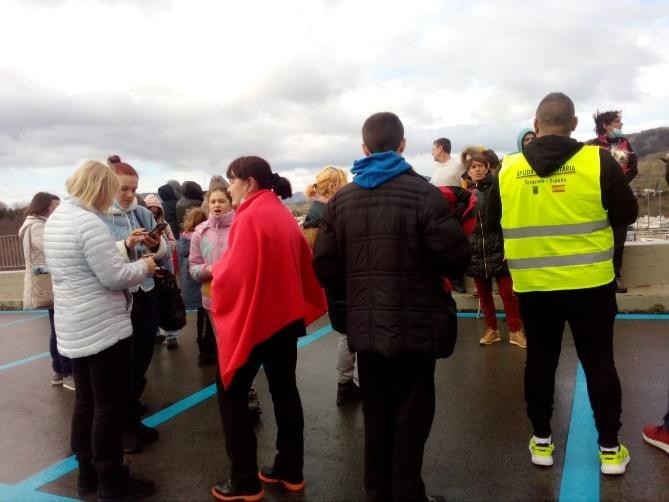 "The joys and the hopes, the griefs and the anxieties of the people of this age, especially those who are poor or in any way afflicted, these are the joys and hopes, the griefs and anxieties of the followers of Christ." (GS 1) and we, as the Holy Family in Spain, have felt called to help our brothers and sisters who are fleeing their homes because of the terrible war.
Thus, different initiatives have arisen throughout the world, and also of course in Spain, of welcome, support and help, of collective mobilisation in which we, as members of the Holy Family, are collaborating. we would like to share some of them with you by way of example: 
The Apostolic Community of San Sebastian lives in the Seminary where, at the moment, there are a good number of free rooms. Our Sisters received a call from the Diocese of Tarazona asking them to host for one night a group of Ukrainian refugees who were travelling. They told us about it themselves: What an experience! It is not the same to see on TV or listen to the news from Ukraine on the radio, as it is to welcome among us the people from that country and embrace them in a tearful embrace. No one remembered Covid, because we had been infected by their pain and suffering, which was greater than any virus. What a joyful opportunity to meet and to share with them, and how painful, too, to see our brothers and sisters crying and suffering the consequences of this cruel war.
So, what did we experience? 12 March, we were asked to welcome a group of Ukrainians who were on their way to Tarazona and needed to spend the night somewhere. First we were told that they would arrive for dinner, sleep and breakfast. Later they told us that they had had to stop several times during the journey and were very late and would have dinner on the way on French soil. The seminarians and some of us offered to wait for them. Twelve o'clock, one o'clock, three o'clock...; at four o'clock in the morning the phone rang to let us know that they were already close.
The drivers and five families (mothers with their young children and some teenagers; the husbands and older children have stayed in the war...) were accommodated here. The rest, up to 80, were transferred to a shelter near here. They all had breakfast here together, what hugs and gestures of gratitude! We are grateful for this opportunity to 'touch' at close quarters the terrible suffering that these brothers and sisters of ours are experiencing and to see the situation from their eyes. After breakfast they spent some time together in the courtyards of the seminary; many were also amazed to see the sea for the first time. When they arrived it was raining torrentially but then it was sunny and they were able to enjoy the scenery. The photos we sent are from that moment.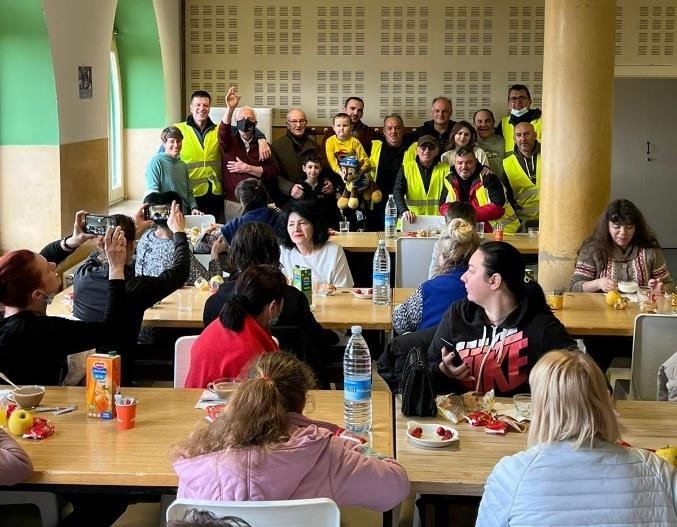 All this was an initiative of a group from the Diocese of Tarazona. One of them, asking himself "what can we do to offer humanitarian aid in this situation", spoke with others and so 18 drivers got together with their vans to go to Warsaw (2,800 kilometres one way and the same number of kilometres back). They prepared 9 vans with the necessary permits and authorisations and with two drivers for each one. They told us that the diocese of Tarazona had thrown itself into this situation. It was impressive to see the dedication and interest of these men. They also told us that when they finished filling the nine vans, a mother appeared with three daughters and some other people who were anxious to get into the vans. They rented another van there and were able to bring them in as well - how great these men were! They have to go back there in order to deliver it.
They did not know how to thank us and we repeated that we were the ones who were grateful for being able to offer this small service. After this stop in Donostia, at around eleven o'clock they left for Tarazona where they were to receive an official welcome. They will be staying at the Diocesan  Seminary. We could not fail to recount this experience because it has touched us all very deeply. When you ask us what do you do in the seminary? We can answer that we try to welcome what each day brings, and do whatever we can to respond to the needs that arise, as in this case.
Another experience that we would like to share with you comes from the group of lay associates in Malaga:
The moment the first list of items requested by MAYDAN, an  Association of Ukrainians living in Malaga, reached our hands, something stirred inside us and we felt that we had to collaborate with them. We started by proposing to contribute a part of the money from the Social Fund of the Lay Associates in Spain. Part of it will go to our apostolic sisters in Poland who are hosting so many refugees and part will be used to help the Oblate communities who continue to work in Ukraine.
We soon realised however,  that in addition to this economic collaboration, much more was needed, and we began to act and to contribute individually, encouraging our relatives to do the same. We wanted to make the most of every penny we had collected, so for the medicines, we decided to turn to a well-known pharmacist to find the best price for the items, and to our surprise, not only did she decided to help, but she did so by doubling the amount we had paid her.
When everything was bought and packed, we took it to the facilities made available to the Association: a few spaces in a motorhome car park. And how much gratitude, how much affection and how much helpfulness there was in that place! Dozens of people working in a chain, sorting clothes or packing food, but in all their faces you could see a smile under the mask, similar to ours when several men approached our car to unload the boxes and bags with food, medicines, blankets and some stuffed animals for the little ones. When we asked them what else they needed, they responded with infinite gratitude and recounted the stories that they heard from their relatives in Ukraine, so of course our hearts were moved and we set off again in search of more boxes, more help.
For many months we have been helping families in the neighbourhood who have scarce resources, and collaborating with the St John of God Brothers;  now we have seen another way to collaborate with the refugees arriving in our country. In this situation, we place more than ever our faith and our hope in the Risen Christ, asking him to free humanity and the universe so that peace may spring up again, so that it may be established in our hearts and in the hearts of all humanity, created by God in his image and likeness.
For this reason, the whole Family of Pierre Bienvenu in Spain, with its five vocations, came together on the Second Sunday of Easter in an online prayer for peace, as a Family that is united, with one heart and one soul. Jesus sends us  out always, but especially on this Bicentenary of the Miraculous Benediction and in this common prayer we prayed together for peace and reconciliation. Peace for our world, peace in the heart of every man and every woman, peace for our common home.
As the Holy Family in Spain we want to continue to live what Ana María Alcalde has bidden us to do: "to get as close as possible to the world of pain, poverty, marginalisation... in real life, and let these situations affect us" (Circular 319).
The Intervocational Information Team - SPAIN